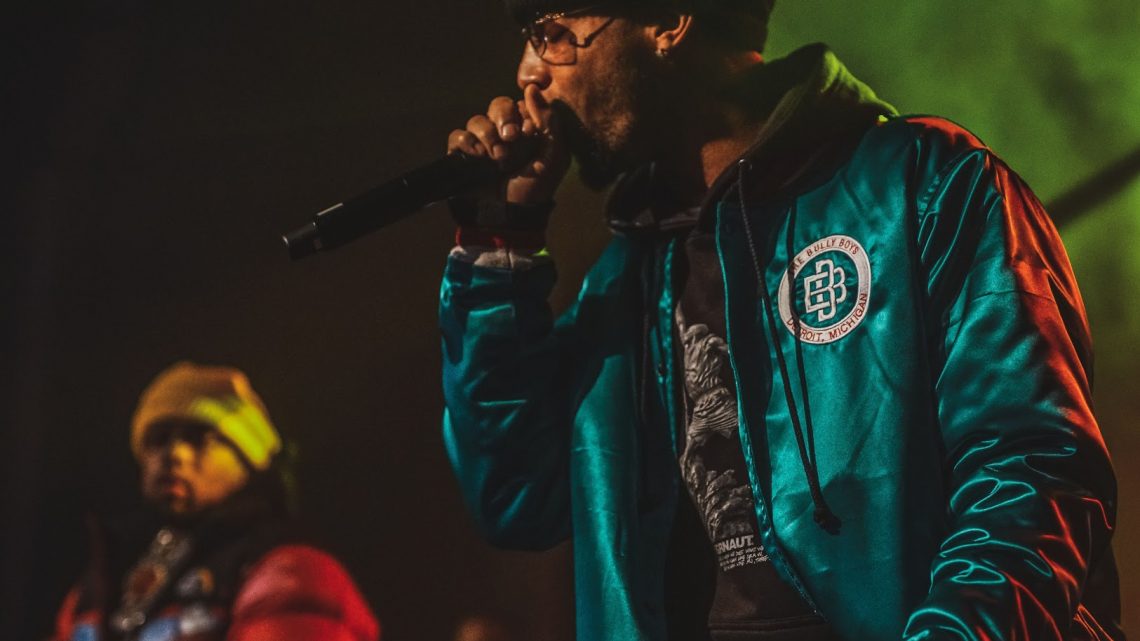 Boldy James Caught One Hell of a Second Wind
August 14, 2020
Today, Boldy James released The Versace Tape, a dark and minimal nine-track project with beats from Vine-star-turned producer Jay Versace.
The 38-year-old Detroit rapper came up making music with the Cool Kids, the Chicago rap duo of Chuck Inglish, James' cousin, and Mikey Rocks. James has released a large body of solo work since 2010, when he started offering guest verses on the duo's retro 808-driven sounds. But 2020 has introduced him to a much wider audience, in part due to a widely praised solo project with producer heavyweight Alchemist, The Price of Tea in China, as well as Manger on McNichols, a decade-in-the-making collaboration with producer and jazz composer Sterling Toles. The Versace Tape continues the single producer theme. When asked how working with one producer at a time affects his process, his response is simple: It doesn't.
"It's just another workload," James told VICE.
James has been gravitating towards unorthodox sounds to accompany his vivid depictions of street life—and Versace's minimal, pared-down samples are a perfect canvas for his low and even voice. Though the beats feel sparsely dressed, the samples have often been tweaked to stand on their own—such as the flip of Abbey Lincoln's cover of Stevie Wonder's "Golden Lady" on "Monte Cristo," which stretches the song's chorus into a haunting loop for James to rap over. And James's cold, picture-painting wordplay is present, of course, whether or not you can feel what he's saying.
"I don't really make my music to give a fuck about nobody relating to it. Because I know nine times outta ten, they can't," he said.
The Versace Tape was executive produced by James' new label boss, Westside Gunn, founder of Buffalo-born rap label Griselda Records. The label's roster has been having an extremely prolific year, with projects like Westside Gunn's Pray for Paris and FlyGod Is An Awesome God 2, Conway the Machine's LULU, and features on some of the best albums of 2020 so far, like Freddie Gibbs's Alfredo. Several of these albums have a producer in common—The Alchemist—and Jay Versace's first major rap placement was on Pray for Paris. So when the Griselda universe grew by one Boldy James, a Jay Versace-produced project was more predictable than it may first appear.
VICE spoke to James about The Versace Tape, his new labelmates, and how he's enjoying his "second wind" as an artist.
VICE: How did this record come together with Jay Versace?
Boldy James: Gunn had a batch of beats from previous work he was doing with Jay Versace after Pray for Paris. I caught the batch, cuz Gunn said he felt like he heard me over the beats. He was supposed to do some shit with Roc Marci, but they put that on the back burner so I could do The Versace Tape. Those were the beats him and Roc Marci were supposed to use for their project. He decided to let me do my thing over the beats, and nine tracks later, there you have it: The Versace Tape.
You've been in the music game for 11 years now, but it feels like you're achieving a whole new level of recognition right now—especially with The Prince of Tea in China. How does it feel to be one of the "new" artists to look out for? 
The second wind? It feels good, because I never had a run like this in music. I came in the game with the Cool Kids; I used to rap in the neighborhood, in the jails, the youth homes, and shit, and I always got a good response from the music that I make. I'm just happy all this traction that I'm catching now is keeping me occupied. It's keeping me out of trouble.
Me, personally, I get in trouble a lot. Trouble likes to follow me and find me, so it's been good for me to just stay busy.
There's one interview you did from maybe 10 years ago where you said you had two feet in the streets. Then, a few years later, you said you had one [foot in the streets.] Now, with all this work, it seems you can be completely two feet out. 
I've never been able to really say this, but this is the first time in my life where I actually feel like I can fall back. I can just sit back and just enjoy being able to be in the studio to work, hearing the work in its completion, the project in its entirety—just being able to smoke it over, absorb it, and acknowledge the fact that that's my work. This is my art; this is what I love doing. I got a love for the game—that's all.
With this second wind, there's been a very specific sound to the beats that you decide to get on. Was there a point in time when you realized that was your sound?
I knew the vein that I need to stay in for my fans to keep interest in what I'm doing, but I rhyme over a lot of shit. I'm from Detroit. I know how to make that Detroit style music, too.
I just know all the variables and the formulas. I studied music—before people was rapping off-beat, and on top of the beat, and trying to come with different rhyme schemes. I say that to say this: the music that I make, I know my sound. I know when I hear that left-handed, unorthodox type of beat pattern that actually compliments what I do, or vice versa.
With the pandemic, has it been tough to lock in with everyone that you want to right now? Or has it been more working remotely, doing stuff over email? 
I still make time to do what needs to be done, or what I actually want to do. And then it's certain things—duty calls. I'll always make myself available for a song. I do a lot of email records, but it's still some things that I gotta pull up on my people and actually interact and get it in the real MC way.
Before getting that batch of beats from Westside Gunn, were you familiar with Jay Versace's work? 
Nuh-uh. I didn't get familiar with Jay Versace's work until Pray for Paris.
What was your first impression when you heard those beats? 
It was magic. I didn't care who produced them. Anybody could've produced them; they were just that fire. It just so happened, the legendary Jay Versace produced them.
That's something you've brought up before—that the quality of the product is really what matters, not who is making it.
Think about it: you don't really care about who produces the big records if it's an unknown producer. You just know he has the skills to compete with some of the people who came before him and prior and in this current moment and state of hip-hop. Then you're thinking, like, Damn, this guy can just come in, make a hit record, boom, make a shitload of money, boom—he's damn near richer than motherfuckers that have been doing this shit for 10, 20 years. And you're like, Damn, can he do it again? And then BOOM! He do it again. So you're like, Damn, this boy's talented.
There's a lot of producers like that that people like to overlook and let other producers overshadow them due to their accolades and accomplishments thus far—just because they don't got no stripes on their jersey, or rank under their belt. Talent is talent, man. I don't care where the music comes from if it's good. We all just want to hear some good music, because nine times out of ten, you don't usually know the artist that's performing and creating your favorite music. You get to know them through their music and through the videos, and it makes you feel like you're getting a formal introduction to the guy, but really, you don't know this man from a can of paint. When the TV and the camera get cut off, he could be the lamest ni**a in the world! You wouldn't know that.
Like I say, just music in general, it gives people the vibe of feeling like they know you. So if that's what I gotta do to keep them lured in and buying in to what I'm doing, that's cool.
This interview has been edited and condensed for clarity.
'The Versace Tape' is streaming now on all major services.