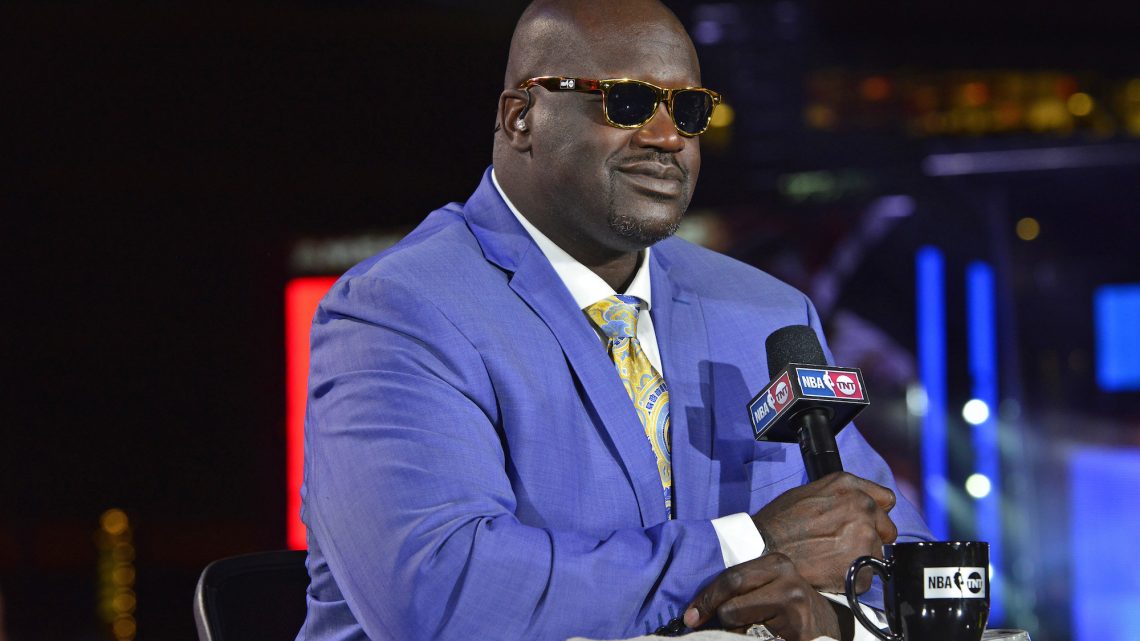 A Brief History of Shaq's Wildest Rap Beefs
October 1, 2019
Last month, NBA player Damian Lillard appeared on Joe Budden's podcast, where he claimed he was a better rapper than Shaquille O'Neal. Lillard also claimed that when Shaq was rapping in the 90s, "People weren't looking at it like it's a real rapper. It was like, 'That's Shaq rapping.'" (To Shaq's credit, his 90s stint did involve some surprisingly-legit collaborations with the likes of Biggie Smalls, Ice Cube, KRS-One and—somehow—Michael Jackson.)
Shaq responded to Lillard's comment by releasing a diss track on IGTV Thursday. In the video, a puppet version of Shaq warns Lillard in an oddly fatherly tone that he's going to "spank" and "discipline" the younger athlete. Tuesday, Lillard responded with a diss track of his own, "Reign Reign Go Away" making fun of Shaq's movie roles and his sneaker line, as well as—to add insult to injury—saying, "Kobe won you those rings, though."
As strange as the back and forth has been, it's only the tip of the rap beef iceberg that Shaq has stacked up over the years.
His most vicious rap diss came back in 2008 when he was freestyling at a Miami club in the midst of his feud with Kobe Bryant. The duo had publicly fallen out over hyper-competitiveness, clashing egos, and Kobe Bryant alleging Shaq had paid women to sleep with him. In the freestyle he claimed Kobe "ratted him out" and "that's why [he's] getting a divorce"—and, infamously, repeated "Kobe, tell me how my ass taste," turning it into a call-and-response chorus with the audience.
Almost a decade later in 2017, he was at it again, courting rap beefs left and right. In July 2017, he released a diss track about Big Baller Brand CEO LaVar Ball, which apparently started when Shaq called Ball's son Lonzo's new $495 sneaker overpriced. On the song, set to Jay-Z's "Blueprint (Momma Loves Me)," he called out the elder Ball's college basketball career, saying, "I been doing this a long time / when you was averaging two points, riding the pine." Ball never countered with a track of his own, but that didn't stop Shaq from seeking out an even stranger new battle a few months later.

In October 2017, Shaq started sparring with British comedian Michael Dapaah, who had just begun rapping under the alias Big Shaq (stay with me here). Big Shaq was going viral for a joke song "Man's Not Hot" where he rapped random words like "rice krispies" with a lot of conviction on a hardcore beat. In response, Shaq called up a Toronto rapper named ShaqIsDope (who he'd already worked with at this point) and the two put out a diss track also titled "Man's Not Hot," against Big Shaq. A few days later, Big Shaq released a music video for the OG "Man's Not Hot," which racked up 14 million views in five days and currently sits at over 300 million views. Shortly thereafter, Big Shaq responded to Shaq's diss track with another nonsensical rap (that got 2 million views)—to which Shaq clapped back with an Instagram video of him rapping his original diss track in a dramatically dark room captioned, "Dear fake Shaq, this is how you spit , not 2 plus 2 is four , we kno that already #learnhowtorap #onlyoneplatinumshaq #shaqfuradio #spityogame #realbarz"
By 2018, he seemed to be in on the joke, appearing on the TBS battle-rap competition show Drop The Mic to spar with The Hangover comedian Ken Jeong. While Shaq's rap mostly consisted of obvious punches about their size difference, with endless penis-size references and a line saying he could "eat [Jeong's] little ass for breakfast." Jeong, meanwhile, called him out for not having rhythm, mumbling his broadcasts, and endorsing any product that would have him. While Jeong was dubbed the winner, beating Shaq is not necessarily as glorious as it sounds. Just look at what happened to Aaron Carter of "That's How I Beat Shaq" fame.
Sign up for our newsletter to get the best of VICE delivered to your inbox daily.