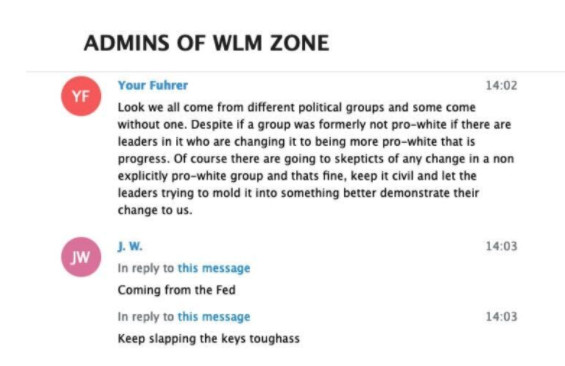 Leaked Chats Show 'White Lives Matter' Movement in Shambles After Antifa Infiltration
April 9, 2021
Just days before a series of White Lives Matter rallies were to take place in cities across the U.S., the movement has fallen into shambles after antifascists posed as event organizers and lured unsuspecting racists to join several fake Telegram channels. 
On Thursday, the administrators of the "White Lives Matter" channels for Seattle and New Jersey suddenly changed their avatar to an antifa flag and revealed themselves to be a "honeypot," created to draw in extremists and glean information about them. The "NYC White Lives Matter" channel followed suit.
This marks yet another major setback for the White Lives Matter movement, which began organizing "The March for White Lives" on the encrypted messaging platform last month. Since announcing the IRL rallies, the movement has been plagued with paranoia, intrigue, and infighting—as well as a general lack of interest from prospective attendees. What's more, VICE News has obtained leaked chats from a private White Lives Matter admin channel, suggesting that antifa infiltration at the highest levels was even worse than organizers thought.
By Friday morning, White Lives Matter organizers were doing damage control, trying to assure the public all was well ahead of Sunday's big event in cities across the country. "To quickly clarify. Antifa did not infiltrate the 'nation admins'. No," they wrote in a statement on a Telegram channel that has over 2,000 subscribers. "Antifa infiltrated a small, semi-public chat where people were reminded to keep the content clean on their channel."
But some subscribers to the channel didn't know what to believe anymore. "Why is this happening?" wrote one user with the handle "JD."  "I'm so fucking sick of this shit." 
"Too many damn feds and antifa sniffing around," another user with the handle "Freedom" replied. 
"What an absolute garbage dumpster fire," another remarked. 
Optics have also been a significant hurdle for White Lives Matter organizers, who hoped to tap into the influx of "normie" MAGA supporters on Telegram following the January 6 Capitol riot. They knew that if they wanted to get any significant numbers for rallies on April 11, they'd have to broaden their appeal and avoid associating their event with explicitly Nazi or white supremacist content. This has been a common goal of several suit-and-tie white nationalist groups in recent years, who rely on dog whistles and euphemism to push their ideas mainstream. But subtlety quickly proved to be a steep challenge for White Lives Matter organizers. 
The Philadelphia "White Lives Matter" Telegram channel had become  particularly problematic, as it was quickly swarmed by some users with handles such as "Sig Hiyel," and others with Nazi insignia in their avatars. The Philadelphia channel was so extreme that even White Lives Matter Telegram users on other channels raised their eyebrows. 
"Just a recommendation, separate yourself from Philly," one person wrote in the main White Lives Matter channel. "It is so hateful that it seems like a troll made it." 
The New Jersey European Heritage Association, a white nationalist group that considers itself "optics-savvy," was even forced to put out a statement disavowing the Philadelphia channel after one of its members was accused of participating. "To reiterate: NJEHA is not organizing, participating in, or endorsing any purported WLM event in Philadelphia," they wrote in a statement on Telegram.
In late March, White Lives Matter organizers formed a 14-person private Telegram channel of admins where they could discuss optics. A major concern was trying to beat back some of the more extreme Nazi content on channels specifically organizing upcoming rallies, according to chat logs leaked to VICE News. 
"This event should be 110% optical in the sense of no swastikas or anything that puts normies off. This is the chance to engage with normies," one admin wrote. "Some have been on telegram for weeks."
Another admin with the screen name "Your Fuhrer" chimed in with concerns about some of the violent content that was being distributed in the rally organizing channels. 
"Public shitposting already gives a harmful appeal but admittedly sending gore to other viewers is going to turn off any person close to joining," Your Fuhrer wrote. 
But paranoia and arguments got the best of even this small circle of trust. Disputes broke out between a purported Proud Boy leader from Michigan and another admin about the fact that Proud Boys "chairman," Enrique Tarrio, is not white. Another user, with SS lighting bolts in their screen name, urged peace. "If you care for our people and don't want us to die THEN STOP," they wrote. "Work together."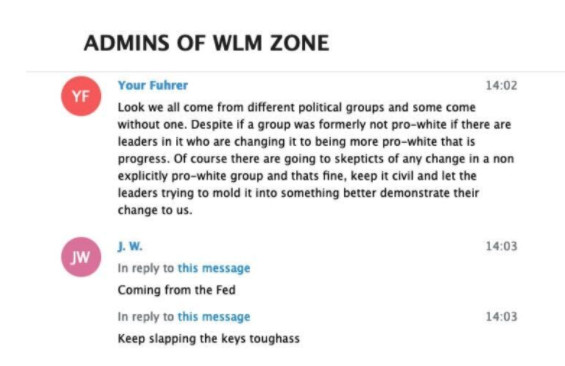 Concern about attracting "normies" to the White Lives Matter movement extended to the digital presentation of White Lives Matter Telegram users.  
The Michigan Proud Boy drafted a statement to distribute to various  Telegram channels. "Remember, if you wish to be taken legitimately and professionally, behave accordingly," he wrote. "[I]t shouldn't have to be said, but if your profile picture has swastikas, iron crosses or any other symbols that is commonly associated with the NS movement, consider removing them."
But then he got self conscious. "God this sounds like left wing sensitivity bullshit drivel," he added.
The Telegram channel of White Lives Matter admins rapidly shrunk in numbers over the course of about a week. Two left after arguments got too heated. Three more were expelled after they were accused of being "moles" or "antifa spies." 
But the real crisis hit on Thursday, when members of the White Lives Matter movement began to see the scale of the antifascist infiltration of their Telegram channels. 
"NYC is very likely compromised," one user wrote, after the avatar of the White Lives Matter NYC group was changed to the antifa flag logo. 
"Disgusting," responded Your Fuhrer. 
The White Lives Matter admins began hearing rumors that other channels that had been compromised: Oregon, and possibly Pittsburgh. 

As screenshots from the admin channel began to leak online, the Michigan Proud Boy was already feeling the ramifications of his involvement in White Lives Matter, and said he was removed from Proud Boy leadership. Proud Boy bylaws stipulate that members cannot be neo-Nazis or white supremacists. In some cases, violations are handled through Proud Boys "court." Fines, probations, and expulsion are all methods of discipline used by the group. 
The Proud Boy partly blamed the fact that the leader of the admin group insisted on participants using real screen names instead of just being "anon" (a rule apparently designed to keep out infiltrators). 
"I'm gonna take a day or so to chill and step back. Consider in the future vetting the fuck outta people," the Proud Boy wrote. 
"Best thing to do," a user replied. "And yes, vetting will be imposed strictly in the future." 
And over in the main White Lives Matter channel, users were decrying the poor organization and OpSec that left them vulnerable to infiltration.  
Not everyone was so doom and gloom, though. In the admins channel, the user "Not Me" urged calm.

"You guys need to all relax. It's not a mess. Us being so paranoid and acting all sketch is only feeding into the public perception that antifa wants," Not Me wrote. "We cannot let them do that to us. We are better than that. Take a deep breath, relax. I'm going dark on this chat after this, but I just wanted to boost your morale and reinstate trust in this movement because this paranoia is playing right into their hands. keep your head up and optics in check."