Made-in-China Vaccines: What You Need to Know
December 16, 2020
Blamed for its early mishandling of the coronavirus crisis, China is seeking to repair its reputation with vaccines, vowing to make them available – and affordable – to developing countries.
For many poorer nations, China provides an alternative to the vaccines developed by Pfizer-BioNTech, Moderna and Oxford-AstraZeneca, the leaders in North America and Europe.
This month, Beijing-based Sinovac shipped 1.2 million doses of its vaccines to Indonesia.
Chinese vaccines were brought one step closer to widespread use over the last week after the United Arab Emirates and Bahrain approved a vaccine developed by Sinopharm, a Chinese state-owned pharmaceutical company.
Taken together, the vaccines are expected to protect tens of millions of people globally from COVID-19 infection by the end of the year.
But apart from price, key differences between the vaccines mean that they won't be evenly distributed across the globe – and the results can have public health, economic and political consequences.
Here are five things you need to know about the Chinese COVID vaccines.
Five are in the home stretch. Two stand out.
Five Chinese vaccine candidates are in the final stages of clinical trials. The trials are the last and most critical step before regulatory approval is sought for mass distribution.
Sinovac, a Beijing-based private company, and state-owned Sinopharm have been leading the vaccine race in China. They are poised to help fill the gaps left behind by Western vaccine makers catering to richer nations.
Sinovac and Sinopharm have stood out because of their large-scale clinical tests and their manufacturing capacity.
Smaller-scale firms like China National Biotec Group (CNBG), a division of Sinopharm, and CanSino Biologics also offer coronavirus vaccines.
With few new cases of the virus being reported in China, Chinese vaccination trials have been conducted mostly abroad, in at least 16 countries.
During early trials, the Sinovac vaccine was shown to have effectively triggered quick immune responses in human volunteers, although it produced lower levels of protective antibodies compared to the Pfizer and Moderna vaccines. Medical researchers, however, said that Sinovac's vaccine could still provide sufficient protection against the virus.
Indonesia has received 1.2 million doses of the Sinovac vaccine and is expected to get another 1.8 million doses by January. Turkey will follow suit, expecting a shipment of at least 10 million doses of the vaccine before the end of December.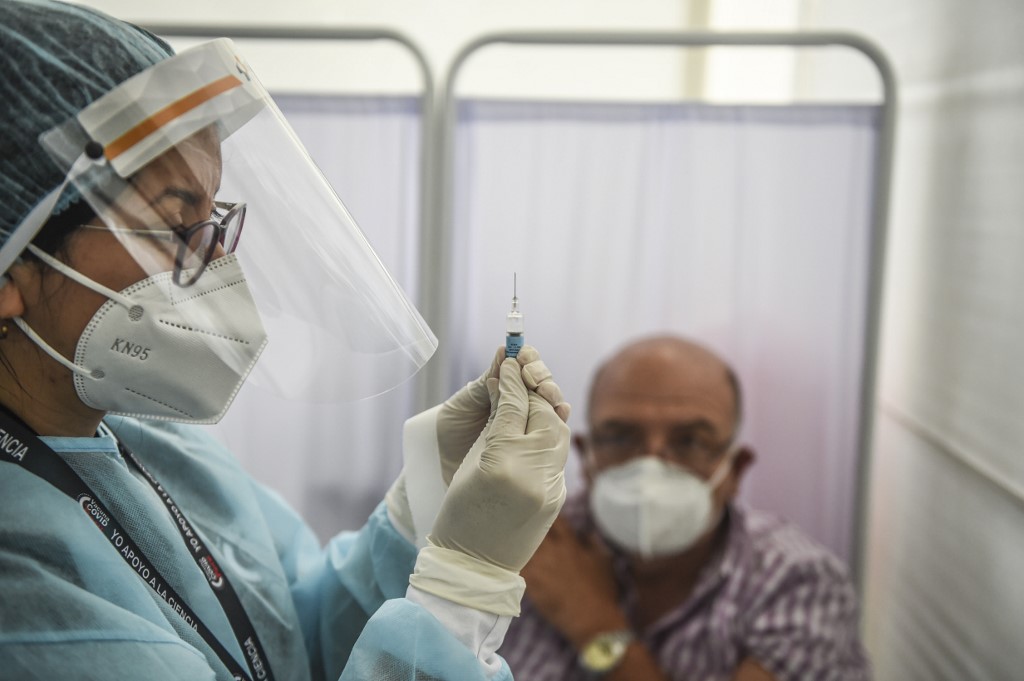 Sinopharm is notable for being the first Chinese company to secure government approval for limited use of its vaccine.
Arab nations were the first in the world to grant full approval to Chinese-developed vaccines. UAE regulators on Dec. 9 cited an 86% efficacy rate for the Sinopharm vaccine, which had already been administered for emergency use for its front-line medical workers in September.
Public health officials in Bahrain on Sunday expressed similar confidence in its Sinopharm's vaccines after an estimated 7,700 people participated in trials.
But neither the UAE, Bahrain nor Sinopharm have released detailed data on their trials, which scientists and experts say make it impossible verify the safety and efficacy of the vaccines.
Singapore-based infectious disease expert Paul Tambyah, who is president of the Asia Pacific Society of Clinical Microbiology and Infection, said that it was "too early to tell" about the effectiveness of Chinese vaccinations.
"Public confidence is important," Tambyah, also a doctor, told VICE World News.
"China has thousands of researchers so there is likely to be some degree of variability in the quality of research. But we need to see the published data from clinical trials done by medical researchers from the different countries who have been studying the Chinese vaccines."
The Convidicea vaccine, produced by CanSino Biologics in collaboration with the People's Liberation Army, was notable for being the first candidate to enter clinical trials. In March, it was tested on 108 human volunteers in Wuhan.
The five Chinese vaccine candidates are expected to complete phase III trials and could see results by the end of the year.
Poorer countries stand to gain
China's leaders and diplomats have promised that poorer countries in Asia, the Middle East, Latin America and the Caribbean will have priority access to Chinese vaccines.
In October, the country joined a World Health Organization-backed global initiative to ensure rapid and equitable distribution of coronavirus vaccines globally.
"China needs a big diplomatic, image-boosting win in 2021," said Taimur Baig, chief economist and managing director at DBS Group Research, in an interview with CNBC.
"Considering the billions of doses needed, and the risk [of] falling at the back of a very long line for Western vaccines, the appeal of the Chinese vaccines is apparent in developing countries."
Others have noted the selectiveness of richer, developed nations who opted not to use Chinese vaccines.
Jennifer Bouey, a senior policy researcher at the RAND Corporation, wrote in a commentary that European countries, as well as the U.S., Canada and Japan, would show little interest in a Chinese vaccine owing to different regulatory frameworks.
Singapore, which recently approved the Pfizer COVID vaccine for public use, is set to become one of the first countries in the world to administer the vaccine by the end of year.
A significant advantage that Chinese vaccines have over their Western counterparts is their ability to do without deep freezing and expensive cold storage. This allows for more flexible and cheaper distribution.
Of the three Western candidates, Pfizer's vaccine is the most difficult to store and distribute. The vaccine must be kept at -94 degrees Fahrenheit (or -70 degrees Celsius), or in a special dry ice case for up to 30 days.
Moderna has said its vaccine remains stable at room temperature for up to 12 hours and regular refrigerator temperatures for 30 days.
"The ability to store our vaccine is an important development and would enable simpler distribution and more flexibility to facilitate wider-scale vaccination in the United States and other parts of the world," said Juan Andres, Moderna's chief technical operations officer, in a statement.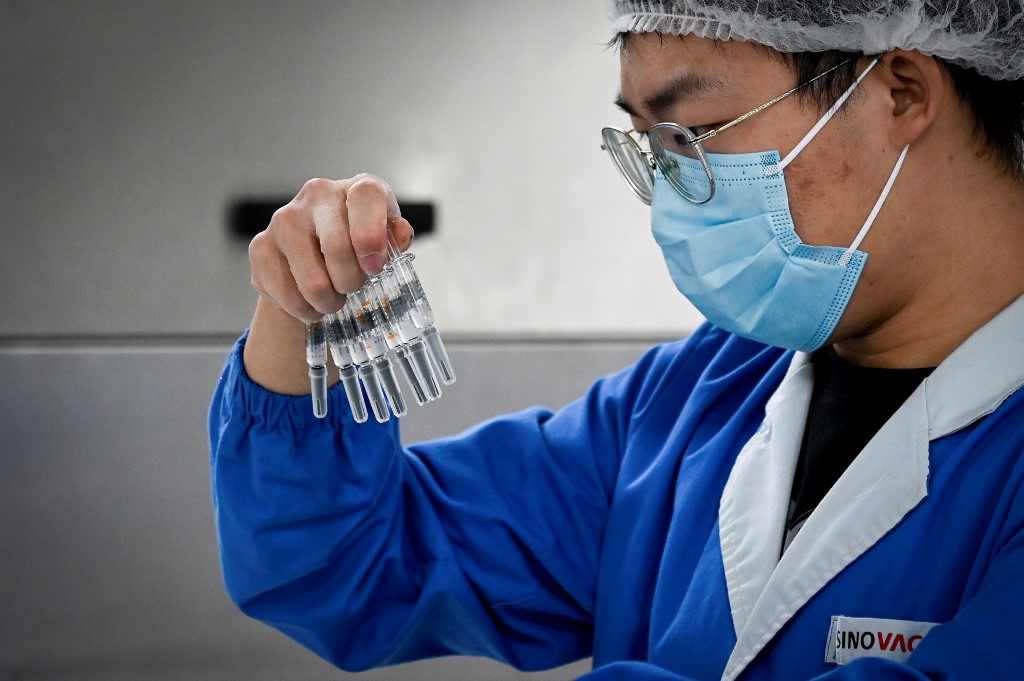 Chinese vaccines do not require freezing temperatures and can be easily stored in standard refrigerators.
Luo Dahai, associate professor of infection and immunity at Singapore's Nanyang Technological University, said that this provided a critical advantage for Chinese vaccine makers in developing countries with tropical, humid climates that lacked large-scale cold storage facilities.
"Stable vaccines will ease the distribution process. Chinese vaccines are made of inactivated coronavirus strains and are attractive because they do not require deep freezing or expensive cold storage," Luo told VICE World News.
"This is a traditional method that has proven to be safe and low-risk over the last few decades."
Indonesian distributor Bio Farma said that it was unable to use Pfizer vaccines due to the logistical challenges involved in distributing it across the country, the world's largest island country. Indonesian officials signed a deal with Sinovac instead.
Beijing claims vaccine efficacy, but data is lacking
Authorities in the UAE and Bahrain have said Sinopharm's vaccine is 86 percent effective – a claim that puts it only slightly less effective than Moderna's and Pfizer's candidates.
"This is a successful, major step towards combating the global pandemic," health officials in the UAE said in a statement on Dec. 9.
But neither country elaborated on the parameters of the trials such as how many patients were given the vaccine dosage versus placebos, and they did not mention any side effects experienced by patients.
Russia has also reported a highly effective vaccine, at a rate of 95 percent, after concluding trials with 16,000 volunteers. President Vladimir Putin said it was the first vaccine in the world to receive government approval and granted approval for emergency use, in August.
But results of the Russian trials have not been published. Foreign leaders and experts have expressed skepticism about Putin's claims while leading Russian opposition figures have called on top government officials to get vaccinated under the eyes of doctors and journalists.
Sinopharm and CNBG have published preliminary results from first and second phase clinical trials, but the companies have not shared official findings from final stage tests.
"There are many those online who have a great deal of confidence in the Chinese vaccines. But without objective survey data, it is hard to tell," said Paul Tambyah.
Chinese vaccine makers are aiming for 1 billion doses in 2021
Global coronavirus cases have soared past the 70 million mark while the worldwide death toll has exceeded 1.6 million. As many countries brace for second, third and even fourth waves of infection, mass vaccine production remains crucial to combat the virus.
Moderna has said that it aims to ship out 500 million doses of its vaccines in 2021 while AstraZeneca has said it will produce 700 million doses of the Oxford vaccine.
But as reports of vaccine hoarding and potential shortages emerge, Chinese vaccines could satisfy not only demand from poorer countries but also fill widening gaps.
In the coming months, China will be shipping hundreds of millions of doses of coronavirus vaccines.
CNBG said that it had the capacity to produce one billion doses of its coronavirus vaccines in 2021. At present, CNBG's two factories in Beijing and Wuhan have a combined production capacity of 300 million doses of vaccine per year.
CanSino Biologics has said it will deliver 35 million doses of its vaccine to Mexico before the end of next year.
Sinovac said in an interview with Chinese state broadcaster CGTN that it was aiming to produce 300 million doses of its vaccine annually.
After securing $515 million in funding earlier this month, the Beijing-based company is building a second production facility, aiming to double its production.
Distrust of vaccine persists. China's lack of transparency doesn't help.
Vaccines typically take years to develop, but pressures to contain the pandemic have spurred scientists and governments to create COVID-19 vaccines in record time.
"We all hope for a rapid end to the pandemic and an effective vaccine would be a surefire solution," wrote American scientist and former Harvard medical school researcher William Haseltine in June.
"There are risks that come with a fast-tracked vaccine that aims to be delivered by the end of this year, not the least of which are the risks related to the safety of the vaccine itself."
Waning vaccine confidence in some regions, including Afghanistan, the Philippines and South Korea, may slow any mass vaccination programs, according to a large-scale global study published in the Lancet in September.
"Waning vaccine confidence has taken a toll on immunisation programmes across the globe - contributing to stagnating or decreasing immunisation rates and consequent surges in vaccine-preventable diseases such as measles," the authors wrote.
Governments that have carried out large-scale trials or begun mass vaccination have so far reported limited adverse effects.
Western regulators have issued public health warnings after reports emerged of adverse allergic reactions from volunteers who received vaccination shots.
Skin rashes, breathlessness and low blood pressure are some known side effects that have come to be associated with the Pfizer vaccine. Other common side effects included fatigue, headaches, fevers and body pain.
Chinese vaccine makers have reported similar side effects, which are consistent with flu jabs, but they have not released detailed information about their final-stage clinical trials.
Luo Dahai, of Nanyang Technological University, noted that "no severe side effects" were reported from earlier and mid-stage tests.
"We do need to examine results from the final clinical trials to access any potential side effects. But applicants should always be seeking doctor's advice - whether they choose Western or Chinese vaccines."