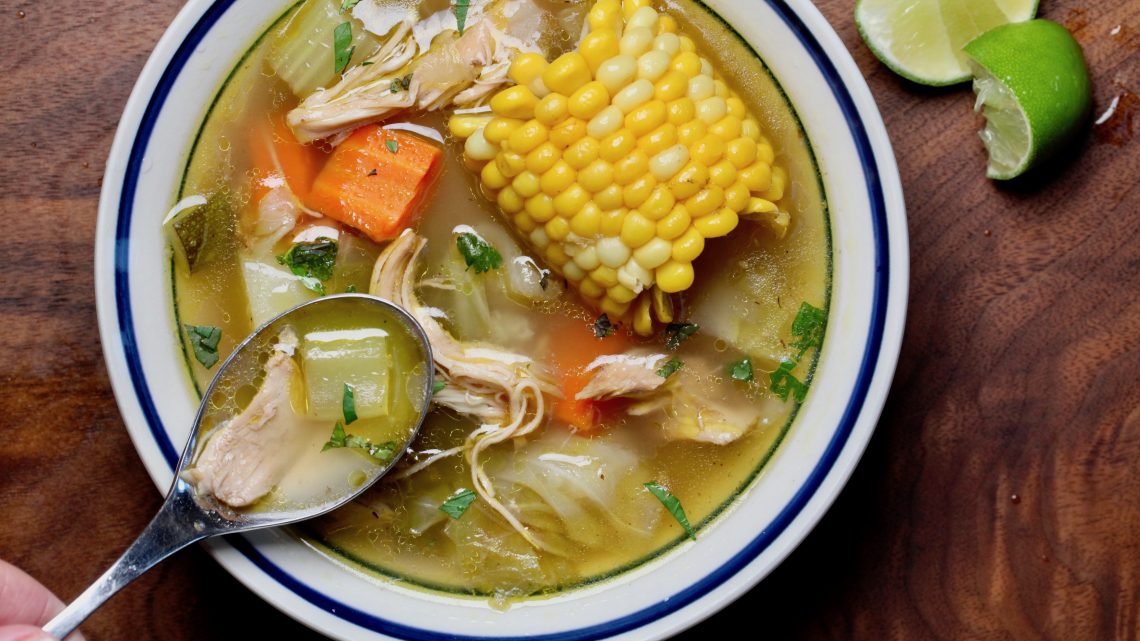 Sopa de Pollo Recipe (Nicaraguan Chicken Soup)
December 25, 2019
Servings: 4-6
Prep time: 25 minutes
Total time: 1 hour 20 minutes
Ingredients
for the chicken stock:
2 pounds|1 kg bone-in, skinless chicken thighs
kosher salt and freshly ground black pepper, to taste
2 tablespoons olive oil
2 ribs celery, cut into 1/2-inch pieces, trimmings saved
1 large carrot, cut into 1-inch pieces (save your trimmings for the stock!)
1 head of garlic, halved
1 medium yellow onion, quartered
1 bunch cilantro, stems reserved, 1 tablespoon leaves chopped for garnish
1 bunch mint, stems reserved, 1 tablespoon leaves chopped for garnish
1 bunch parsley, stems reserved, 1 tablespoon leaves chopped for garnish
for the soup:
12 cups|2.8 liters chicken stock
1 pound|450 grams potatoes, peeled and cut into 1-inch pieces (save your trimmings for the
stock!)
1 pound|450 grams yucca, peeled and cut into 2 to 3-inch pieces (save your trimmings for the stock!)
2 large carrots, peeled and cut into 1/2-inch pieces (save your trimmings for the stock!)
2 ribs celery, peeled and cut into 1/2-inch pieces (save your trimmings for the stock!)
1 medium yellow onion, diced (save your trimmings for the stock!)
2 ears corn, husked and quartered
1 zucchini, cut into 1/2-inch pieces (save your trimmings for the stock!)
1/4 head cabbage, chopped into large bite sized pieces
Directions
1. Make the chicken stock: Season the chicken thighs with salt and pepper. Heat the oil in a large saucepan and cook the chicken, turning as needed, until golden, 4 to 5 minutes. Lower the heat to medium and add the celery, carrots, garlic, onion, all the vegetable trimmings, and the herb stems. Cook for 3 to 5 more minutes, then pour in 16 cups water. Scrape up the bottom of the pot with a wooden spoon to get all that goodness that may have stuck to the bottom! Bring to a boil, then reduce the heat to a simmer. Cook for 30 minutes, then strain. Pick the meat from the chicken and shred it. Discard the remaining solids and the chicken bones. Makes about 14 cups.
2. Make the soup: Return the stock to a saucepan with the shredded chicken, the potatoes, yucca, carrots, celery, onion, the corn, zucchini, and cabbage. Bring to a simmer over medium and cook for 30 minutes, or until the yucca is soft. Season with salt and pepper and divide among bowls. Garnish with the freshly chopped herbs to serve.
Get recipes like this and more in the Munchies Recipes newsletter. Sign up here .