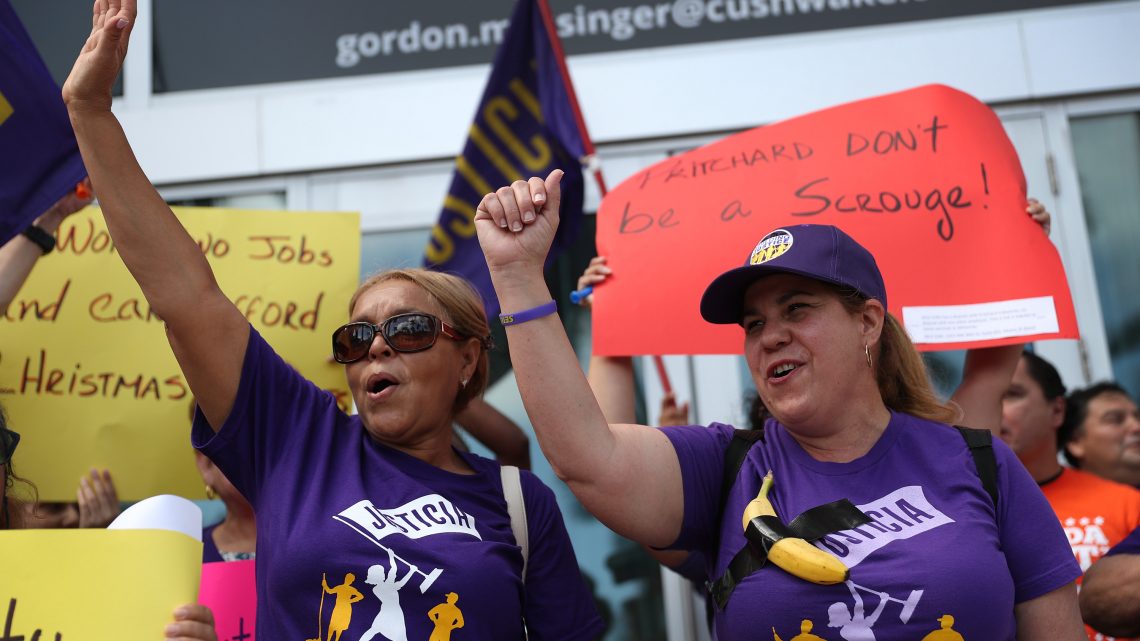 Protesting Janitors in Miami Are Using Art Basel's $120K Banana as a Symbol of Inequality
December 13, 2019
With a piece of duct tape and an otherwise unremarkable supermarket banana, Maurizio Cattelan turned a piece of fruit into a six-figure payday at Art Basel Miami Beach—and then he did it two more times. He also made a significant number of us dread seeing the words "duct tape" or "banana" in another headline, parody, or social media post. (Yes, we saw the Popeye's chicken sandwich canvas, the taped-up Pepsi can, and the Florida police department's doughnut version that officially slipped a plastic bag over the head of an already dying idea.)
But a group of Florida janitorial workers looked at Cattelan's banana and it pissed them off for a completely different reason. According to the Miami New Times, when a group of janitors took to the streets in downtown Miami to protest their stagnant wages, workplace intimidation, and other subpar working conditions, they taped that same piece of fruit to their purple shirts and used it as a symbol of their indignation.
"How much are we worth? A banana is worth more than us, apparently," Felipa Cardenas told the news outlet. "Our work is something people don't value; they look at us like we're nothing. But it's a job with dignity, and it's tough work. We deserve better payment."
In addition to the banana taped to her shirt, Cardenas carried a bright yellow sign that read "I work two jobs and can't afford Christmas presents." (She earns Florida's minimum wage working for a cleaning contractor whose office is less than five miles from Art Basel and its $120,000 banana.)
A recently published report from the University of California-Los Angeles' Center for Neighborhood Knowledge revealed that 30 percent of janitors in south Florida are subcontracted, while 89% of the area's largest office buildings outsource their janitorial services to subcontractors—a situation that the report's authors suggest is a major reason for their low wages. On average, subcontracted janitors in Miami currently earn $4,331 less each year than their non-subcontracted counterparts.
While Miami has become the 12th most valuable market for office real estate in the U.S., it's safe to say that its janitorial workers are struggling: more than half (57%) live at or below the poverty line, almost half (49%) are uninsured, and a third (33%) are forced to rely on government assistance through programs like the Supplemental Nutrition Assistance Program (SNAP).
"Poverty wages, lack of benefits, sexual harassment, wage theft, and workplace threats and intimidation are endemic in the janitorial industry. Often considered an 'unseen workforce,' thousands of janitors' make their way to South Florida's most valuable office buildings at night, keeping work areas sanitary for tenants and maintaining property values for investors," the report states. "For their hard work, Miami's office janitors receive a median wage of $8.50." (According to the Miami Herald, the median local wage for the area is $10.89.)
"The plátanito protest is to illustrate the absurdity of someone spending tens of thousands on a banana taped to a wall in a city where janitors earn so little they can't afford to feed their families," Ana Tinsly, a spokesperson for the local branch of the Service Employees International Union (SEIU) said. "Miami should not be a playground for the rich; it should be a place where all residents can earn a decent living and raise their families."
"What do we have to do, tape bananas to ourselves?" one woman's sign read as she marched on Wednesday. In a just world, no, her work should be enough to earn a fair wage. And in a just world, maybe $120,000 bananas wouldn't be a thing, either.