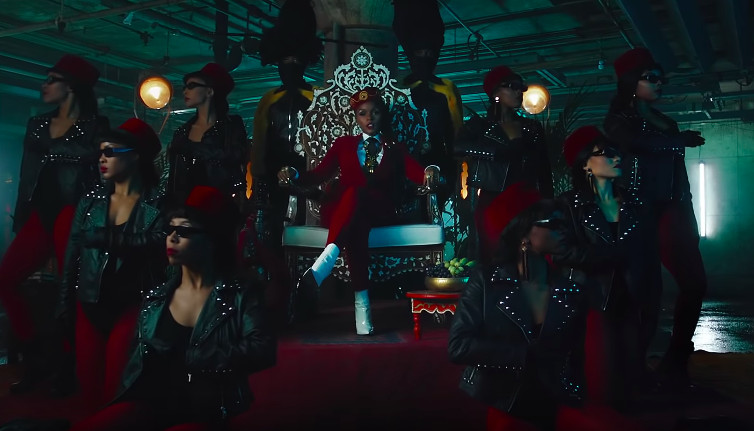 The Moments That Defined 2018's Surge in Afrofuturism
December 28, 2018
Afrofuturism has been a steady undercurrent in black American culture for decades, mostly kept alive by a handful of creatives who use technology and outer space to imagine a sci fi-empowered black future. But in 2018, mainstream mega stars also found it to be the perfect vehicle for escaping the woes of President Trump's second year in office.
Black Panther buoyed the year with an imagined world that a number of other artists interacted with through their own projects. But the philosophy was present in many corners of the real world too, from celebrity fashion to major live performances and even an increasingly famous black female robot, Bina48, forcing the artificial intelligence community to think about coding blackness.
Jay-Z helped ring in 2018 with his futuristic Wakanda-inspired music video for "Family Feud" directed by Ava DuVernay and released just two days before the new year. It opens on a key James Baldwin quote: "The wretched of the earth do not decide to become extinct, they resolve, on the contrary, to multiply: life is their weapon against life, life is all that they have." Afrofuturism is the resolve to never become extinct. It's a vehicle for turning inward and reconnecting with a long history of survival to project a future that would be the ultimate survival. It creates distance from oppressive immediate surroundings without retreating. Each cultural moment below helped give the concept new meaning for 2018.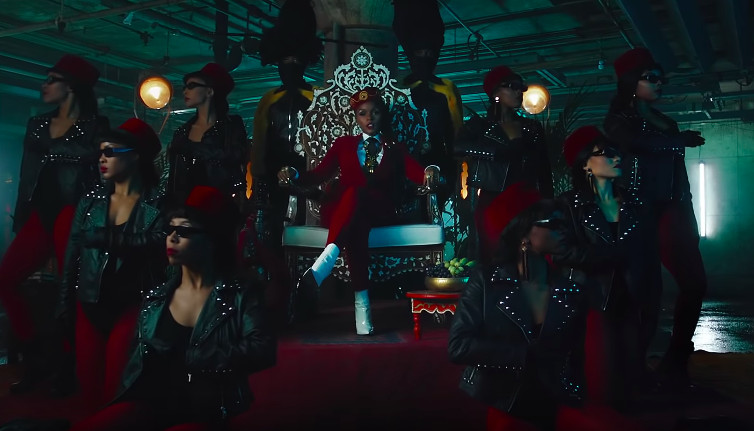 Afrofuturism in Art
Much of the year in afrofuturism also bubbled up in new exhibits around the globe. In Dortmund, Germany 32 global artists participated in "Afro-tech and the Future of Re-Invention," an exhibit further exploring the innovations within afrofuturism. While back in the states, Chicago's Museum of Contemporary Photography hosted an exhibit, "In Their Own Form," that brought together thirteen visual artists from the U.S. and abroad to share their visions of technology and heroism in afrofuturism. Also in Chicago, the first ever WakandaCon brought hundreds to rejoice in the themes and art of Black Panther. At Art Basel Miami, Urban Philanthropies non-profit took up the job of organizing an exclusively afrofuturist exhibit amidst the festival's sprawling displays of black creativity in all forms. OG afrofuturist artists continued to shine too, like Lina Viktor who got into a spat with Kendrick and SZA earlier in the year for allegedly plagiarizing her art in "All the Stars," but closed out the year gloriously with a solo show at the New Orleans Museum of Art that explored the intertwined history of Liberia and the U.S.
Beyoncé's Global Citizen Fest Performance
Rounding out a year where African Americans were considering their ties to the mother continent, Beyonce performed in South Africa to honor Nelson Mandela's legacy at the Global Citizen Fest. She opened her career-defining Coachella performance wearing a Nefertiti headdress, and followed that aesthetic in South Africa by donning another show-stopping series of looks, including a black, feathered crop top emblazoned with Egyptian hieroglyphs and leather shorts. Big cultural moments like Beyonce's performance and the other phenomenons that brought people together this year give shape to a global connection that binds people of the diaspora as they embrace the power and beauty of their blackness. It's often mistaken as manufactured, but is impossibly real.
Sign up for our newsletter to get the best of VICE delivered to your inbox daily.
Follow Taylor Hosking on Twitter.