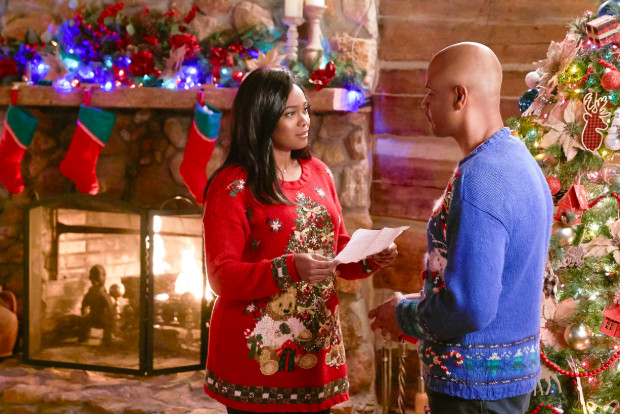 How to Make the Perfect Xmas Movie, from a Man Who Has Made More than a Dozen
December 21, 2018
A few Christmases ago, my mother told me she had gotten really into the soapy, made-for-TV holiday movies that air on channels like Lifetime and Hallmark. She said she found them inexplicably soothing, and started to DVR them to watch in the evenings after a long day. Apparently, in the last few years, we have all turned into my mother.
The popularity of these cheesy, romantic holiday tales has spiked dramatically in recent years. In 2010, the Hallmark channel debuted six original holiday movies. This year, it has no fewer than 36 (37 if you count its New Year's Eve-themed romp, A Midnight Kiss).
Many networks and streaming services, including Netflix, have started to double down on holiday shmaltz, because it's selling; last year, Hallmark raked in an estimated $390 million in ad revenue from its Christmas programming, thanks to the approximately 85 million viewers who tuned in. That same year, Netflix's A Christmas Prince was an unexpected hit, prompting a sequel, and a surge of new holiday fare this year.
But while saccharine, vaguely Christmas-themed, made-for-TV movies aren't new, the sudden, and profitable, widespread popularity of them is. I wanted to know why there seems to be a newfound appreciation for these flicks, and what the secret to success is when you've got a pretty well-worn formula to stick to. So I reached out to Ron Oliver, a writer and director who has created more than a dozen made-for-TV Christmas movies.
"I married my husband on Christmas night—that is how much I love Christmas," Oliver told me in a recent phone interview. "Okay, actually it was so I'd never forget our anniversary, but I like to say it's because I love Christmas."
The filmmaker has directed and co-written countless of made-for-TV classics, including Angel of Christmas, Christmas Everlasting, and Love at the Thanksgiving Day Parade. His first was 2005's Chasing Christmas, starring Tom Arnold and Andrea Roth, for ABC family. He approached that first gig like any other TV job, but it quickly cemented him as what he calls "some guy who knew how to make a Christmas picture."
Since then, Oliver has made a Christmas movie nearly every year, mostly for Hallmark. Yet he told me that, even after all this time, he still loves the genre.
"I'm a big Christmas nut," he said. "The way its celebrated in America, it's almost a secular holiday. I am completely irreligious but I love Christmas. During that time of year, everyone can agree to disagree, and get along for a little while."
He said he thinks that's what explains the recent surge in popularity for TV Christmas flicks. Where the 90s were a time for cynicism, and the early aughts a kind of transition period, the nonstop barrage of shit we've endured for the last few years has left viewers eager to escape to a world where the snow is crisp, the cookies are fresh, and everyone does the right thing.
"We're currently living in a time both socially and politically where everyone is yelling, angry, and divisive," Oliver said. "People like idea that a world exists somewhere that is happier and better where people try to be their best because it's Christmas time. Culturally, we are not being our best right now."
These films can be criticized for being repetitive and formulaic, but Oliver argues that they're no more so than any other movie, and all boil down to a kind of simplified hero's journey—but with lots of Christmas cliches sprinkled throughout. He has had to rewrite several scripts to crank up the holiday spirit, changing a scene from a sidewalk to a Christmas tree farm, for example, and he said fake snow and decorations are a great way to cover up any obvious signs that a movie was filmed outside of the US, and in summer.
"It's amazing what you can hide if you throw enough Christmas at it," he said.
I suppose that's a metaphor for life."
At the end of the day, the familiar, unrealistic, slapstick formula of the made-for-TV holiday movie works precisely because it delivers what it promises. There is, as my mom expressed, an unexpected comfort in these ridiculous romantic visions of a holiday that in every other context has become a symbol of capitalism and consumption. In a time when we're more anxious and depressed than ever, it's not all that surprising that we're opting to escape to a better, more festive, more ethical world, especially if we know exactly how the story is going to end: happily, and probably under the mistletoe.
Sign up for our newsletter to get the best of VICE delivered to your inbox daily.
Follow Kaleigh on Twitter.