Watch Hellboy Get Smacked Around by Giants in a New Trailer
December 19, 2018
After a bit of drama around a leak Wednesday morning, Lionsgate released the first trailer for its new Hellboy film Wednesday afternoon. The third installment in the series is directed by Neil Marshall—who directed two episodes of Game of Thrones and one of Westworld—and stars David Harbour, a.k.a., the hot sheriff papa from Stranger Things, as the big red boy from hell.
The new footage reveals a hefty supporting cast. Ian McShane (Deadwood) takes on the mantle of Hellboy's defacto father figure, Professor Trevor Bruttenholm, from John Hurt, who passed away in 2017. Daniel Dae-Kim (Lost) plays Ben Damio, a character of Japanese descent who was initially cast as a white British rapper. Sasha Lane (American Honey) is Alice Monaghan, a character who Hellboy rescues from fairies in the original Dark Horse comics.
Together, they'll be facing the sinister-looking villainess Nimue the Blood Queen, played by Milla Jovovich (The Fifth Element). Judging from the trailer, a ton of folkloric bad guys get in their way, ranging from hill giants to a house with big ass chicken legs that looks a lot like the one in which mythical Slavic witch Baba Yaga lives.
"It's not an origin story, but it's his coming to terms with where he came from," Harbour told Entertainment Weekly. "He's been Hellboy for a long time, but there's a new turn of events at the start of the film, where people start to bring up the fact that he might bring about the end of the world, and it's really the first time he's heard anything like that. The question that comes up in the movie is where does he really belong?"

Hellboy is all about the uniquely awkward life of a demon who chooses to be a "good guy" and fight for humans, specifically the Bureau for Paranormal Research and Defense, despite often inspiring fear and disgust in the population at large. The symbols of that choice are the giant horns he keeps filed down to squat cylinders on his forehead in order to repress an unholy power intended to bring about the apocalypse. In the first Hellboy movie—directed by Guillermo del Toro and starring Ron Perlman, who are both absent from the upcoming installment—we see a chaotic entity magically make them grow back, causing a great flaming crown to appear above his head, but he rips them off and proves his loyalty to Earth. So it's not a great sign that we see him—horns, crown, and all—at the end of the new trailer.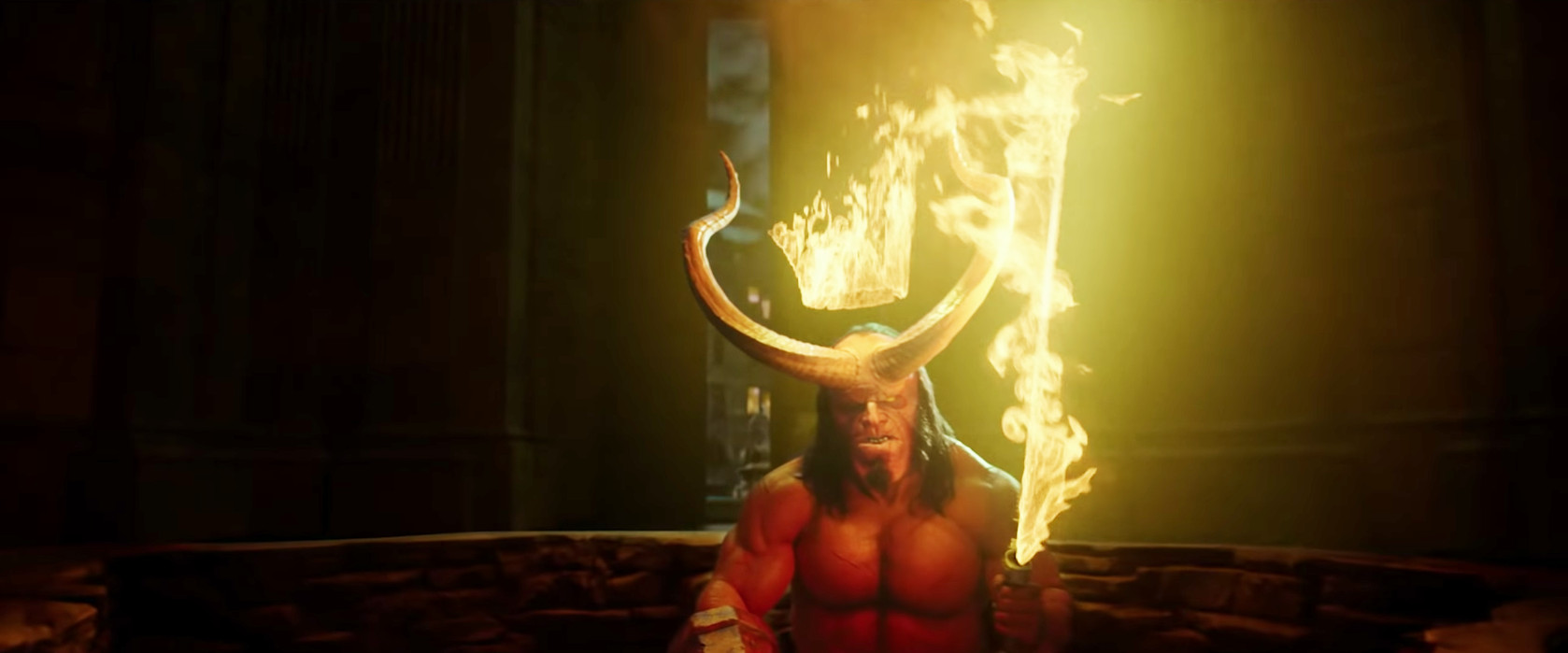 With a stadium rock soundtrack, plenty of witty banter, and Harbour's now bright red dad bod, the two-and-a-half-minute clip is fun as, uh, hell. Watch it above.
Hellboy is currently slated to hit theaters April 12, 2019.

Sign up for our newsletter to get the best of VICE delivered to your inbox daily.