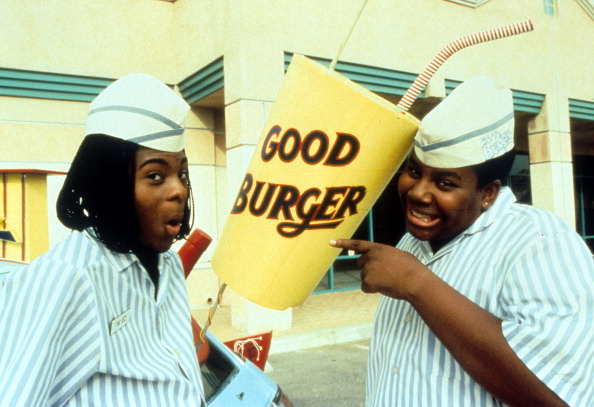 Kenan and Kel Are Heading Back to Nickelodeon
June 26, 2018
For better or worse, the 90s are basically back: TRL is on TV again, Daria is coming back, and on Monday—seventeen years since the last time someone picked a giant nose on television—Nickelodeon aired the first episode of the rebooted Double Dare. If you feel like you're about to overdose on nostalgia, brace yourself, because at some point this season, the slime game show is bringing Kenan and Kel back to Nickelodeon as contestants, Entertainment Weekly reports.
Contrary to conspiracy theories that bounced around the internet circa 2006, Kel Mitchell isn't dead—he's 39, he lives in California, and he's apparently psyched as hell to meet back up with longtime SNL cast member and Good Burger co-star Kenan Thompson. They'll be going head-to-head in a special episode of Double Dare, which features all the same bizarre shit you loved about it back in the 90s: the human hamster wheel, the aforementioned giant nose, and, of course, gallons upon gallons of green slime.
"I am so excited to be playing on Double Dare and for a whole new generation of kids to experience this iconic game show," Mitchell told EW. "This episode will be double special because Kenan and I will be playing against each other and we are both huge fans of Double Dare."
If you've stayed up on your Kenan and Kel gossip since the latter pretty much dropped off the map, the idea of the iconic Nickelodeon duo facing off on Double Dare might sound kind of juicy. Rumors have swirled for years that they had some kind of falling out (sustained mostly by prodding from TMZ), and it's tempting to think this appearance on a kids' show might turn into some kind of gak-fueled showdown. But the two reunited earlier this year on an episode of Wild 'N Out, where Mitchell reenacted that immortal line from Good Burger, and it seems like they're probably fine.
Because 90s nostalgia is the only surefire cure for the miserable hellscape that is now, let's hope Double Dare manages to cram in as many references from the good old days of Kenan and Kel as possible. It'd be great if they could walk out to that Coolio song from the opening credits, or if Kel could get a chance to chug at least one two-liter of orange soda. And with Hollywood churning out 90s reboots faster than you can say "Amanda please," who knows—maybe Nickelodeon is just laying the groundwork for a Kenan and Kel revival. Fingers crossed.
Sign up for our newsletter to get the best of VICE delivered to your inbox daily.
Follow Drew Schwartz on Twitter.