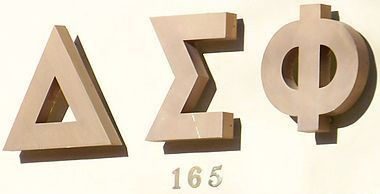 This Florida Frat Ran a Secret Revenge Porn Facebook Group, Lawsuit Alleges
June 15, 2018
Back in March, Kathryn Novak was spending spring break with her boyfriend when a disturbing text from one of his frat brothers flashed onto his phone screen. The two men were talking about a naked video of her, according to a lawsuit filed on Thursday, one she had never told her boyfriend he could share. She demanded to know what was going on—and allegedly wound up uncovering a dark, secret Facebook group called the "Dog Pound," where his fraternity brothers were sharing photos and videos of women without their consent.
According to the New York Times, Novak said she discovered that her (now ex-) boyfriend, Brandon Simpson, had been posting nude photos and videos of her to the Facebook group since October. Now she's suing Simpson—along with his University of Central Florida frat, Delta Sigma Phi, and four of its members—for $75,000, accusing them of uploading not just images of her to the group, but of several other women, according to the lawsuit.
The frat bros "routinely posted images and videos of their sexual 'conquests'" to the Facebook group, the lawsuit claims. More than 200 people saw one video of Novak, it alleges, though there's no word on exactly how many people might have been in the group. She and her boyfriend were in a long-distance relationship, and she had sent him some of the photos and videos consensually—but at least one video was taken of her without her knowledge, the Times reports.
Novak's lawyer, Michael Avenatti—the same guy who's representing Stormy Daniels—told the New York Times that when Novak found out footage had been shared with the group, it was "devastating."
"The fact that you had a basically frat-boy atmosphere, both literally and figuratively, that was centered on the exploitation of women without their knowledge or consent is outrageous," he said.
Delta Sigma Phi has since suspended its chapter at UCF, telling the Times that the allegations against the frat were "disturbing and antithetical to our organization's values and mission." Meanwhile, the university said it was "gathering information" about the alleged Facebook group, and asked anyone who thinks they might be implicated to reach out, CNN reports.
The news comes just two months after a fraternity at Syracuse University was expelled for making extremely racist videos, including one in which its members mocked raping a disabled person.
Sign up for our newsletter to get the best of VICE delivered to your inbox daily.
Follow Drew Schwartz on Twitter.